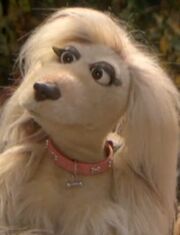 Destiny
is a female afghan hound. She has high standards and is difficult to please she will do anything to get her way for example, she mauled her owner in the first episode so she could meet a boy in dog obedience class.
Nelson has a crush on her, pursuing her even after she has explained in serveral different ways that she does not feel anything for him.
Ad blocker interference detected!
Wikia is a free-to-use site that makes money from advertising. We have a modified experience for viewers using ad blockers

Wikia is not accessible if you've made further modifications. Remove the custom ad blocker rule(s) and the page will load as expected.