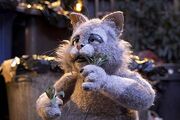 Destiny the Reluctant Sniffer Dog
is the second episode of
Mongrels
,
Series 1
.
When his neighbour, Vince, has a litter of fox cubs, Nelson is thrilled to be an uncle at last, until he finds that Vince has eaten all of his cubs (despite having Müller Rice which he couldn't find a spoon for. It was Rhubarb flavour anyway) except one – the runt of the litter. Nelson decides to save the runt, only to discover that he's the sickliest, saddest, wimpiest, most difficult animal you could ever wish to meet. Destiny meets a handsome dog called James who teaches her the art of the bottom sniff. Soon she is out trying to sniff out any handsome dog she finds. Destiny is then horrified to discover that according to her sniffing her ideal lover is Nelson. Marion gets addicted to catnip and goes crazy. Nelson steps in with some aversion therapy in a bid to save his friend. Kali is reunited with an old partner in crime, the dove Dean. She is irritated to discover that Dean has no interest in helping her terrorise the neighbourhood since he has now found God and seen the error of his ways. Annoyed, Kali plots to tempt Dean back to the dark side.
to be added
to be added
to be added
Ad blocker interference detected!
Wikia is a free-to-use site that makes money from advertising. We have a modified experience for viewers using ad blockers

Wikia is not accessible if you've made further modifications. Remove the custom ad blocker rule(s) and the page will load as expected.