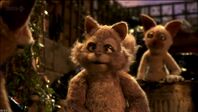 It's New Year's Day and the night before is a complete blur. With a police dog hot on their trail, Nelson and the gang must solve the mystery of what happened to them on New Year's Eve before the law catches up with them. Where did Marion find his Siamese wife? Why are they now two identical Destiny's? And how did a dead horse end up in Nelson's den?
Ad blocker interference detected!
Wikia is a free-to-use site that makes money from advertising. We have a modified experience for viewers using ad blockers

Wikia is not accessible if you've made further modifications. Remove the custom ad blocker rule(s) and the page will load as expected.