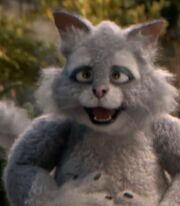 Marion
is a male cat, and is very corruptible. He has been abandoned by several owners. He was neutered in the first episode. He is borderline-retarded cat who shows signs of bipolar. He occasionally says a phrase in his signature style, such as:
"I knew that."
*to self* "I did not know that."
Marion was voiced by Dan Tetsell, and was performed by Warrick Brownlow-Pike.
The first Marion puppet looked like a stripey mouse so the creators remade him, his body was supposedly based on James Corden topless and his voice came from when one of the creators did an Omid Djalili impression.
In the unaired pilot episode, 'We Are Mongrels', he appears differently than in the series, and also had a different voice actor.
Ad blocker interference detected!
Wikia is a free-to-use site that makes money from advertising. We have a modified experience for viewers using ad blockers

Wikia is not accessible if you've made further modifications. Remove the custom ad blocker rule(s) and the page will load as expected.