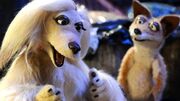 Nelson the Stroke Virgin
is the fourth episode of
Mongrels
,
Series 1
.
Nelson realises that he is the only one in the gang who has never been stroked by a human making him a "Stroke virgin" (Even Vince has been stroked)! He visits a petting zoo, where he quickly discovers that getting a stroke is not always a pleasant experience. Marion courageously saves a child from drowning, but Destiny dupes him out of his chance to win an Animal of Courage award by taking all the credit for his bravery. Only when Destiny is faced with doing something brave for real does she truly reveal to the world that she is nothing more than a liar, a coward and the daughter of a thousand godless akney-ribben whores. Kali falls for a muscular crow and decides to go for it with a passionate kiss, only to discover that the crow is a girl and that she is now an accidental lesbian.
to be added
to be added
to be added
Ad blocker interference detected!
Wikia is a free-to-use site that makes money from advertising. We have a modified experience for viewers using ad blockers

Wikia is not accessible if you've made further modifications. Remove the custom ad blocker rule(s) and the page will load as expected.