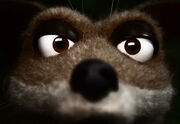 Vince is a violent, foul-mouthed fox who considers himself a proper animal, and whose catchphrase is: "Morning c***s!"
He is Nelson's cousin.
In episode two of the second series, 'Nelson and the Fortnight of the Living Dead', he reveals to Marion he has Tourettes' Syndrome, which is why he is so foul-mouthed. But, whenever he sings show tunes, he 'don't swear no more'.
In episode four of the same series, 'Vince and the C***'s Speech', he is revealed to have possibly slept with Nelson.
In Series two, episode three, Nelson gets together with Vince's mother but when Nelson proposes to her the shock gives her a heart attack and she dies. Marion is then put in charge of taking her body back to the Wetland Reserve where she lived; eventually through some odd madcap adventures Vince finds out she's dead but thinks it was an accident and Nelson is off the hook.
Ad blocker interference detected!
Wikia is a free-to-use site that makes money from advertising. We have a modified experience for viewers using ad blockers

Wikia is not accessible if you've made further modifications. Remove the custom ad blocker rule(s) and the page will load as expected.